The Best Exercises VIII
Leg Adductor Stretch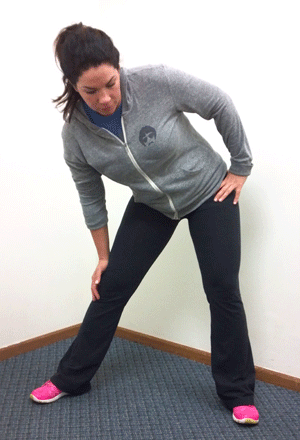 The right inner leg and knee are being stretched as the exerciser places 75% of her weight onto the bent left leg. At the same time she presses into her right knee with her right hand to add force and guidance to the rocking motion produced by the repetitive flexing of the left knee. Because the exercise, in this case, is aimed at the most common knee cartilage problem, a torn or injured medial meniscus (posterior horn), the toes of that leg are pointed outward rather than straight ahead. The rocking motion is repeated for 10-20 repetitions with a frequency of up to 20 times during the day.
Marionette Isometric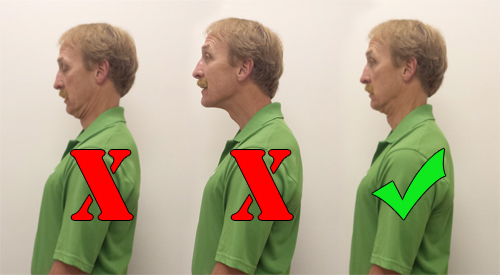 The key to this exercise is creating an image of a string or rope pulling from the center of the top of the head upward. If the rope attaches too far forward or too far toward the back of the head the exercise is effectively rendered useless. So this posture is not as simple as it may seem and it requires practice. To find the correct position try it incorrectly, first too far forward then too far backward, then find the correct position between the two. Once the correct position is found just think Up, Up, Up. Hold the posture for as long as possible and for a minimum of one minute. Repeat it many times during the day.
The information contained herein is not intended to be a substitute for professional medical advice, diagnosis or treatment in any manner. Always seek the advice of your physician or other qualified health provider with any questions you may have regarding any medical condition.
Return to the Articles Page
Return to the Where's Your Pain? Page