The Best Excercies
The following are the
number one
exercises, each for a given area, according to patient surveys:
Neck - The Plank
Lie on your back with your head and shoulders off the edge of the bed. Tuck your chin as if squeezing a ball under it. Hold this position while gradually allowing your head to fall toward the floor. Wait until the discomfort becomes significant enough to quit (5 sec. to 1 minute). Wait 5 minutes. Repeat. Perform this 1 to 3 X daily.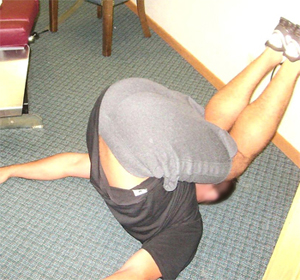 Thoracic - Backover
Lie on your back on the floor. Pull both knees to your chest and begin mildly rocking. Remove your hands from your knees and place them, palms down, on the floor. Rock a few more times until you can remain suspended. Keep your knees bent. Continue to rock with much smaller increments until you need to drop back to an extended, face-up position. Repeat as needed.
Knee - Band Extensions
Sit in a chair with the problem knee completely bent. Make a loop with the elastic band and wrap it around the chair leg and your ankle. Kick out slowly and return slowly. Repeat until thigh fatigue. Wait one minute- repeat. Wait one more minute- repeat. 1-2X daily.
Click to Enlarge
Look for more "Best Exercises" that cover the other major body areas in the near future from Combined Care Center.
The information contained herein is not intended to be a substitute for professional medical advice, diagnosis or treatment in any manner. Always seek the advice of your physician or other qualified health provider with any questions you may have regarding any medical condition.
Go to "The Best Excercies II"
Return to the Articles Page
Return to the Where's Your Pain? Page