Acupuncture Tacks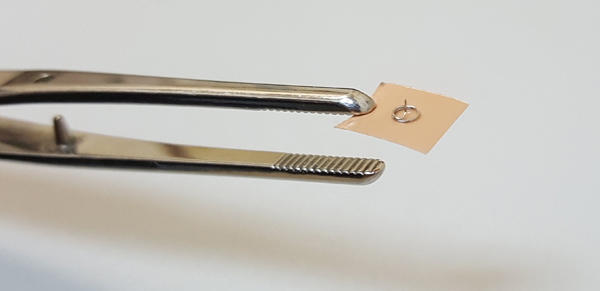 An Acupuncture Tack is a tiny metallic coil which ends in an even smaller needle point attached by means of a small piece of flesh colored tape to various points that correspond to the areas of treatment that the patient needs according to the therapist. Acupuncture or PINS Prolotherapy effects may be applied on an ongoing basis for hours, or even days at a time by the use of these tiny needles. Some conditions that require ongoing influence will respond to this therapy with more success than traditional acupuncture. The tack continues to perform therapy while the patient goes about his daily business without interruption. In many cases it is no problem for the patient to learn to place the tack accurately and effectively. The procedure is easy, painless, and inexpensive.
Acupuncture tacks stimulate the release of endorphins, enkephalins, and neuroactive amino acids by affecting the peripheral nervous system. These "tissue hormones" cause increases in local circulation and anti-inflammatory activity as well as enabling muscles to oxygenate and become stronger. The tack becomes activated by activities that might otherwise irritate the area. Local fluid congestion that causes a joint arthritis or tendonitis to become resistant to healing is removed with every daily movement of that joint. The tiny needle on the tack should eventually cause the regeneration of damaged cells. When acupuncture tacks are placed on points on the ear this is a form of Auriclotherapy, or "Ear Acupuncture". These can stimulate the brain to create natural messenger substances that lead to more natural dopamine production. Dopamine is a brain neurotransmitter that triggers a cascade of chemical reactions resulting in sensations of well-being. Ear acupuncture has been used successfully for many years to treat stress, anxiety, depression, and addiction.
Permanent ear acupuncture protocol was discovered and developed by Dr. Ulrich Werth. It was discovered by accident when a needle inadvertently remained in a patient's ear and the patient experienced good results. This discovery ultimately created a new treatment for Parkinson's disease. These tiny titanium needles stimulate the brain to create natural substances that lead to more natural dopamine production. Eventually this should cause the regeneration of damaged brain cells. Tacks have potential through this avenue to treat such afflictions as Bell's palsy, facial tics, and trigeminal nerve pain.
In summary, body and ear tacks are therapies that provide the unique benefit of repetitive and ongoing healing influences. As a relatively newer adjunct to prolotherapy and acupuncture it would seem that their use will only be expanding in the future, particularly since they have never been found to produce harm and have such potential for good.
Return to the Articles Page
Return to the Where's Your Pain? Page